Laminated glass with LCD film
Vèrio
Protect your privacy with a simple gesture

Clear or opaque glass? Now you no longer have to choose, because with Vèrio LCD glass by Flexlite, a simple gesture can protect your privacy in an environment.
Vèrio is an electrochromic, laminated LCD glass, which encloses a liquid crystal film, which allows the transformation, in a few milliseconds, of a transparent glass surface into a completely opaque one.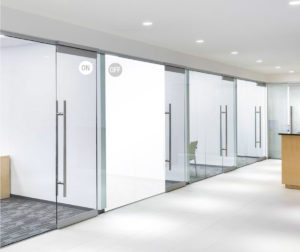 Thanks to Vèrio Privacy, you can completely darken the glazing to guarantee the privacy of the environment with the click of a switch.
LCD glass is particularly suitable for hospital environments, offices, meeting rooms, and private homes.
Vèrio Privacy is a stylish, extremely hygienic solution to eliminate the need for curtains and blinds.
Usage
Hospitals, offices, meeting rooms, hotels, bathrooms, private homes, yachts.
Installations
Download