[-=+] LESS IS MORE LABEL PHILOSOPHY
28/02/2017
LESS IS MORE is a phrase that comes from the English language. It is about a great revolution compared to the time when it was believed that one was to pay their respects to a principle of opulence and complexity in design.
Less is more reverses this paradigm and suggests that in fact the best result, the "more" you get when you construct a building – but this applies to any type of product – essential and perfect for its functions.
The phrase is not from an Anglo-Saxon architect but a German one, the genius Ludwig Mies van der Rohe, who used this principle as the foundation of a new architecture; an architecture that no longer looked to the pomp and complexity as a result of something good. A principle that over decades has passed from architecture to industrial design.
The same principle that inspired ETERNA, the new automation for sliding and telescopic doors, designed to ensure maximum silence, fluidity of movement and reliability.
Brushless motor, new design, extremely compact dimensions and a new app for easy and intuitive management by smartphones and tablets. It is the manifesto of our philosophy "LESS IS MORE".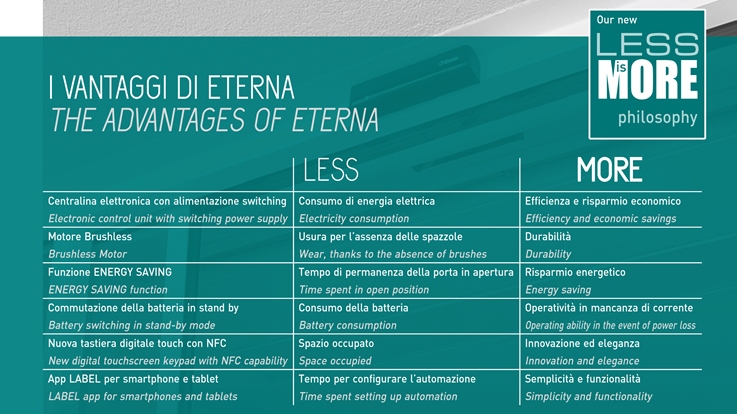 A philosophy which translates into practical ADVANTAGES:
√ LESS electricity consumption = MORE EFFICIENCY AND ECONOMIC SAVINGS
√ LESS wear, thanks to the absence of brushes = MORE DURABILITY
√ LESS time spent in open position = MORE ENERGY SAVING
√ LESS battery consumption = MORE OPERATING ABILITY IN THE EVENT OF POWER LOSS
√ LESS space occupied = MORE INNOVATION AND ELEGANCE
√ LESS time spent setting up automation = MORE SIMPLICITY AND FUNCTIONALITY
#lessismore #eterna #labelspa #futureisanopendoor #automaticdoorsolutions