Label Evolus-T – Phase-out
What does it mean? It means that you can still order EVOLUS-T until March 2020, with an update of the prices, and that its spare parts will be available until 2030
EVOLUS-T is the automation system for sliding doors with a brushless motor that will allow you to install a sliding door system in those situations where it would be impossible for a single leaf to move due to limitations of space or concerns about safety.
The open leaf of Evolus-T occupies 1/2 or 1/4 of the lateral space compared to a single leaf, making it possible to maximise use of the access space.
The Evolus-T automation system is available in versions with 2 or 4 sliding leaves and can be used with the LABEL range of profiles.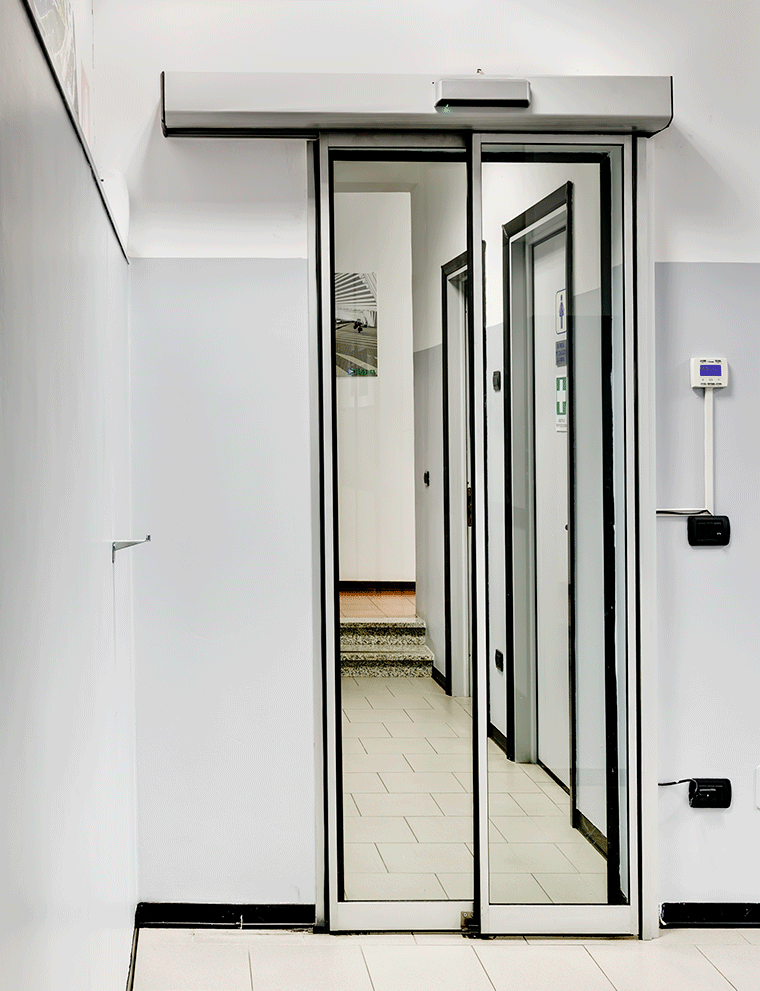 Evolus-T automatic doors have exceeded 1,000,000 cycles (4,000 cycles/day) in durability tests, in an environment with a temperature range of between -15° C and +50° C, and is certified at IP22 protection class. The installed EV-BAT1 emergency battery guarantees opening of the automatic door in emergency mode with approximately 10 opening cycles, while the EV-BAT2P model also allows continuous operation for approximately 30 minutes.
EVOLUS-T telescopic doors
Evolus-T 200 operates 2 leaves weighing 100 kg each or 4 leaves weighing 50 kg each
Evolus-T 300 is recommended for 2 leaves weighing up to 150 kg each or 4 leaves weighing 75 kg each
The 2-leaf version has a clear opening width of 800 ÷ 4000 mm
The 4-leaf version has a clear opening width of 1600 ÷ 4000 mm
LABEL EVOLUS-T, certifications and safety
The Evolus-T automation system complies with the new European Standard EN 16005, and has undergone and successfully passed all the lab tests required under standard EN 13849, with particular reference to the testing of electronic safety components.
The automation system for Evolus sliding doors is also available in the version Evolus TF: certified for use in environments subject to fire prevention regulations, including underground car parks.

Dimensions and Components
Installations
View other products:
Automations for standard sliding doors: Eterna, Evolus, Revolus, Revolus T
Automations for standard swing doors: Next, Neptis, Neptis INVERS
Profiles and complete doors in aluminium: LB18, LB 35, LB50/breakout
Frameless profiles and complete doors: LB FL
Fire-rated doors: Evolus TF
Download