Label Next
The NEW extra compact automation for interior swing doors: 60 (H) x 74 (W) x 420 (L) mm
The LABEL NEXT 75 automation system is designed to control the opening and closing of swinging doors in indoor environments where safety, absolute quietness and fluidity of motion are essential requirements.
Watch this tutorial to see how you set-up a NEXT operator.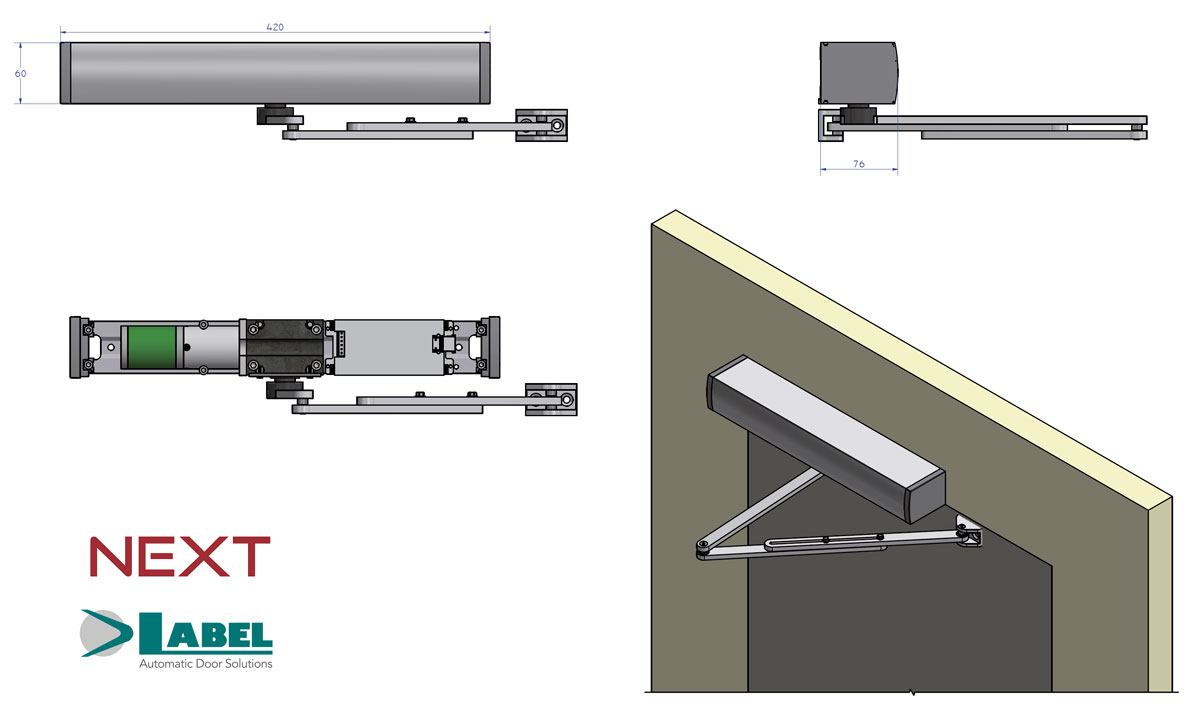 The great versatility of the LABEL NEXT 75 automation system means it can be used in all fields of application. The powerful automation system, capable of operating swing doors weighing 75Kg and 1000 mm in length, is equipped with a brushless motor with encoder, resulting in very low wear and the highest durability over time.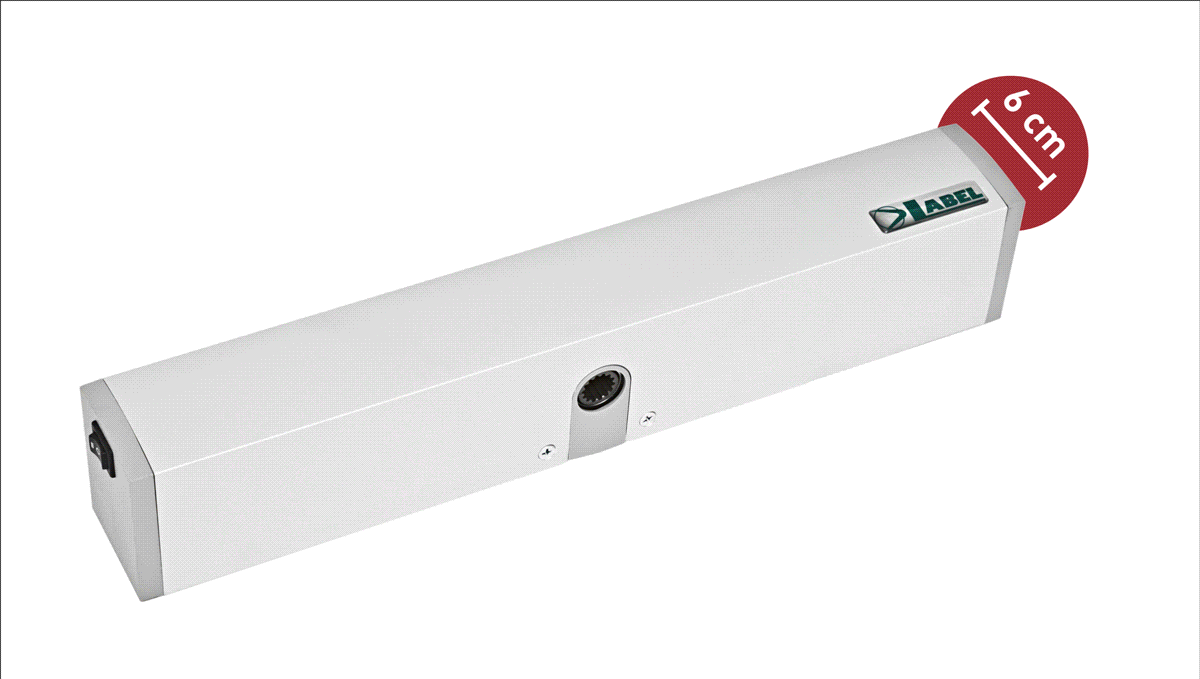 An electronic control unit, latest generation components and a switching power supply complete the technical equipment of the LABEL NEXT 75 automation systems, ensuring efficiency and low power consumption.
On request, LABEL NEXT 75 automatic swinging doors are equipped with an emergency battery allowing them to maintain automatic operation even in the event of a power failure.
The opening system of LABEL NEXT 75 automatic doors can be controlled by sensors, remote control or by a simple touch of a finger using the push & go mode.
The automatic swinging doors of the NEXT 75 series are extremely safe, thanks to the encoder which detects the precise position of the door and, in the event of an obstacle, immediately reverses the movement of the door.
LABEL APP and the automatic door become SMART
The Label App is the new, simple and intuitive app for Smartphones and tablets, opening up new frontiers in the way users manage LABEL automation systems.
Compatible with NEXT 75 series automation systems, simply download the app onto your NFC-equipped device and you will be able to start up the automation system, adjust the operational parameters, access the Information section to read the Events Log and save the automatic door's settings in your device's own memory. Once the settings have been input using your mobile device, the data is uploaded into the memory of the automation control unit in a rapid and completely secure fashion, simply by bringing the device into proximity with the T-NFC keypad.
LABEL NEXT 75, the benefits:
Ultra-compact dimensions 60 (H) x 74 (W) x 420 (L)
Very low consumption (5W in stand-by)
Brushless motor
LABEL app for smartphones and tablets
Quick opening (up to 80° in 2 seconds)
LabelTools App
Install the app LabelTools on your smartphone: with this app you can
set the operating parameters of the Label automatic doors in a few seconds
have always at your disposal a library to read and write the files to control and commission the Label automations for doors
reduce the time for door commissioning
quickly apply the parameters to multiple doors
LabelTools allows you to control the automatic doors Eterna and Next. Discover all the benefits of LabelTools and download the app from the site www.mylabeltools.com
LABEL NEXT 75, certifications:
Standard EN 61000-6-2 / EN 61000-6-3
Low Voltage Directive: LVD 2014/35/EU (Test report SAFTR_120284-3)
Standard EN 60335-2-103
Machinery Directive 2006/42/EC (Test report MACTR_120699-4)
Standard EN 13849-1 / EN 13849-2
EN 16005 EN 16005
Dimensions and Components
Download