EVH-E
Hermetic hospital doors
EVH-E hospital doors by Label are sliding, hermetic-seal automatic doors that achieve class 2 hermeticity in positive pressure conditions and class 4 in negative pressure conditions. In addition to hermeticity testing in accordance with standard EN 1026, Label hospital doors have also undergone testing by the Istituto Giordano (Air Permeability Test no. 278814 and Laboratory measurement of sound insulation no. 315233).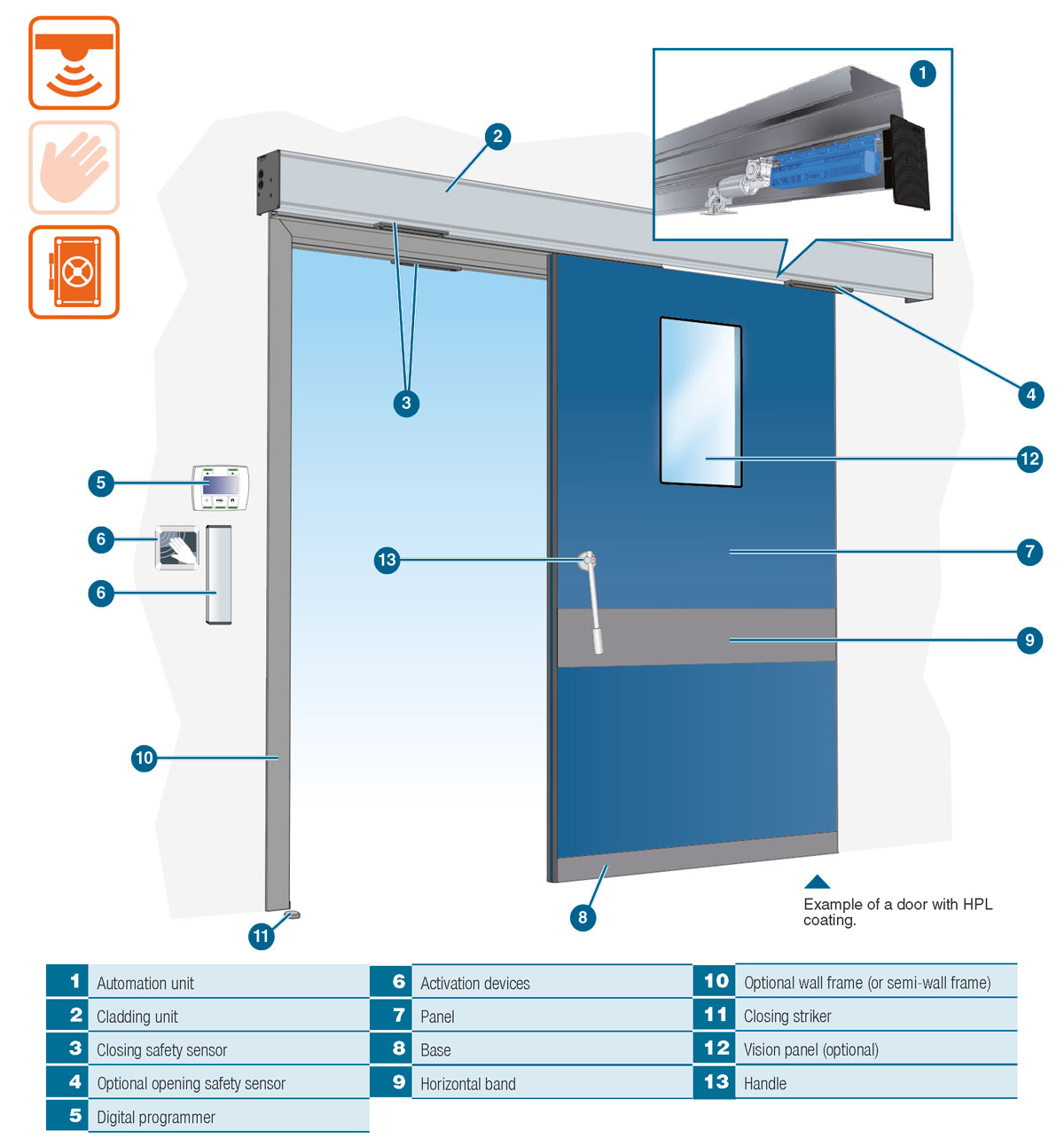 Coupled with the new dedicated line of LB-H profiles, EVH and EVH-E automations provide simple seal and hermetic seal systems created to meet any specific need.
EVH-E has been designed to operate in hospital environments where low noise, safety and hygiene are essential.
Hermeticity is the key feature for measuring the performance of an automatic door for use in an operating theatre. From the moment we began to develop this project, our focus was on achieving the best possible performance.
The leaf of the hermetic-seal automatic door can be made from HPL or stainless steel, with a wide range of accessories, and leaded versions are also available for the most demanding applications.
Label Hospital Door Systems are equipped with all of the panels and accessories that the latest technology can provide:
Laminates
Stainless steel
Anti-bacterial enamelled steel
Glass panels specifically designed to dampen noise
The telescopic wall frame system of the LB-H profiles was created to accommodate special safety barriers, which ensure that the entire clear passage remains safe.
The LB-H panel's Vision panel is coplanar to it. Vision panels can be manufactured in different sizes and shapes, as well as with X-ray protection. Handles of different types and materials complete our range of panels.
Accessories

Installazioni
Download
Video
Hospital Doors (video)
Hermetic Door (video)