Profiles and Complete Doors
LB35
Leaf profiles for glazing with thickness up to 28 mm (Catalogue Components) and Door (Finished Doors)
LABEL LB35 is the newest profile of the range LB series, ideal for the installation of sliding doors in extreme conditions, where the frequency of use and the environmental stresses are particularly high.
Designed to provide the best performance in terms of resistance, lightness and versatility.
The aluminium profile LB35 is at the highest levels of the category.

The special geometry of the profile LB35 will give your sliding door greater solidity, a better resistance to impact and bending.
The profile LB35 provides the possibility to install various types of latches and locks.
Technical description of the profile LB35
Frame
Extruded profiles in EN AW-6060 primary aluminium alloy in compliance with Regulation UNI EN 573 .
Finishing state
Finishing T5 according to the Standard UNI EN 515
Dimensional tolerances and thickness
UNI EN 12020.2 and/or UNI EN 755-9
Seals
Bespoke extruded, in EPDM
Surface protection treatments
Anodizing in compliance with EURAS-EWAA European technical directives. Thermoset powder coating applied in compliance with QUALICOAT European technical directives.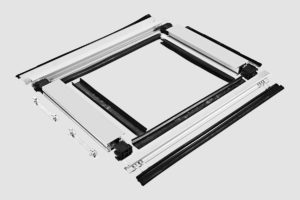 Surface protection treatments
Rectilinear sliding doors, with 1 or more movable leaves, also in telescopic version.
Fixed side leaves.
Fixed transom.
Redundant automation for escape routes.
Standard locking included in the automation.
Mortice lock with up to three locking points per upright.
Installations
Download