Profiles and Complete Doors
Label LBFL
Frameless profile systems (catalogue components)
The Frameless System is designed and built for 55.2 laminated glass and 10 mm toughened glass.
Fast, safe and effective installation using the upper glass clamping bar.
Cut to size extruded profiles in Aluminium Alloy EN AW 6060 T5.
Designed according to CPR Guideline and DM – Machinery Directive.
System integrated with all LABEL automation.
The maximum weight of the glass is 120 kg and the
minimum ratio between Lg/Hg must be 1:45.
Available in aluminium or anodized silver finish.
For further requests, contact our Technical Department.
The wide range of automation systems for Label doors, with brushless motors, seamlessly integrates with the whole range of profiles and doors to create modern, efficient and elegant passageways.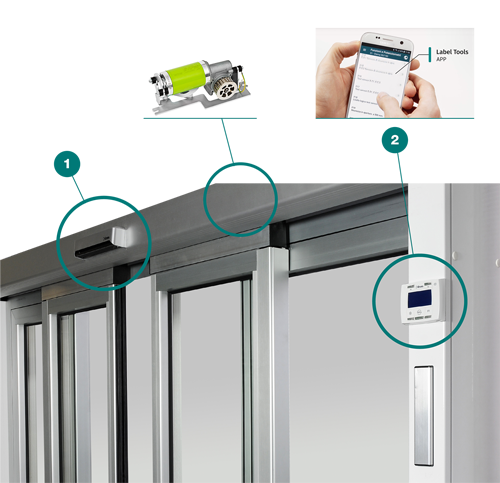 1 – All the sensors supplied by LABEL follow the EN 16005 standard regarding safety in use with automatic pedestrian doors.
Each sensor is suitable for use in combination with the automations and for Indoor (I) and/or External (E) installation.
2 – With Label Tools App or the touch screen controller you can control your door and customize openings in seconds, using the many pre-set programs.
Download
Video
"FRAMELESS" door assembly instructions (video)