H-BAI
Simple sealing automatic swing door with stainless steel panel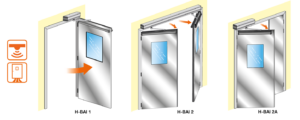 The simple sealing, automatic swing door for hospitals by Label with stainless steel panels are "TECHNICAL" doors for operating rooms, laboratories, surgeries, highly aseptic environments in general and are available in 3 models:
H-BAI1 – Single-leaf automatic swing door, opening width up to 1,200 mm
H-BAI2 – Double-leaf automatic swing door, opening width up to 2,000 mm
H-BAI2A – Double-leaf asymmetric automatic swing door, opening width up to 2,000 mm
 All models are available with push or pull arm and can be converted into hermetically sealing doors with the appropriate hermetic seal kit.
The automatic version of the door comes with a wall frame equipped for hinges, ready to be mounted on wall rabbets or on a subframe. It can be supplemented with the following accessories: vision panel, handle, bump-strip, pulse devices and safety sensors (radar, infrared sensors).
The seal is ensured by expanded EPDM gaskets mounted on the aluminium profiles that cover three sides of the leaf perimeter.
A rigid-bristle brush is installed on the bottom edge and an hermetic seal kit is available on request.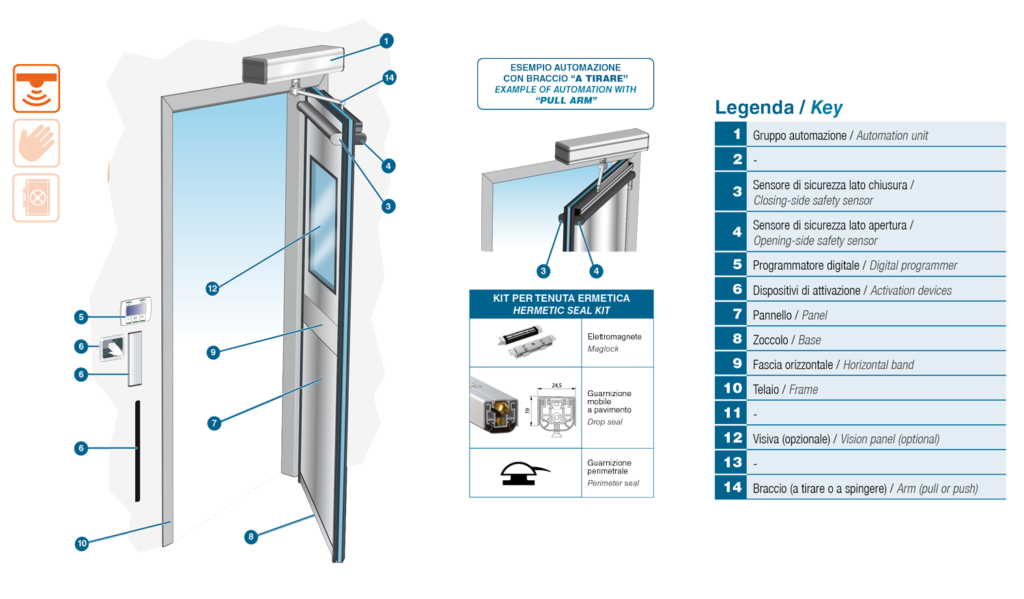 App
Door control parameters can be quickly entered and updated using the LabelTools app.
Automation
Automation model NEP250SLT2 for swing doors, motorized opening and spring-actuated closure, for maximum 1,500 mm wide leaf.
Maximum weight for each leaf: 250 kg (up to 800 mm)
Maximum leaf width: 1,500 mm (up to 100 kg)
Automation dimensions (HxDxL) 110x120x550 mm.
The automation consists of:
Heavy duty electromechanical automation
Aluminium cover in natural anodized-silver colour – H.110 mm.
Aluminium support base width 550 mm.
Grey ABS side panels – Depth 120 mm.
Motion drive system using antistatic belt reinforced with Kevlar sides
115/230Vac – 50/60Hz power supply
Direct current motor with encoder
The standard supply includes:
Automation NEP250SLT2.
Leaf panel complete with dedicated frames and gaskets
Aluminium covering unit in HPL version
Arm (pull arm H-BDT2FE or push arm BSS2FE)
Digital selector and safety sensors
Options
Vision panels
Handles
Bump bands
Pulse devices (radar, infrared sensors)
Powered closure device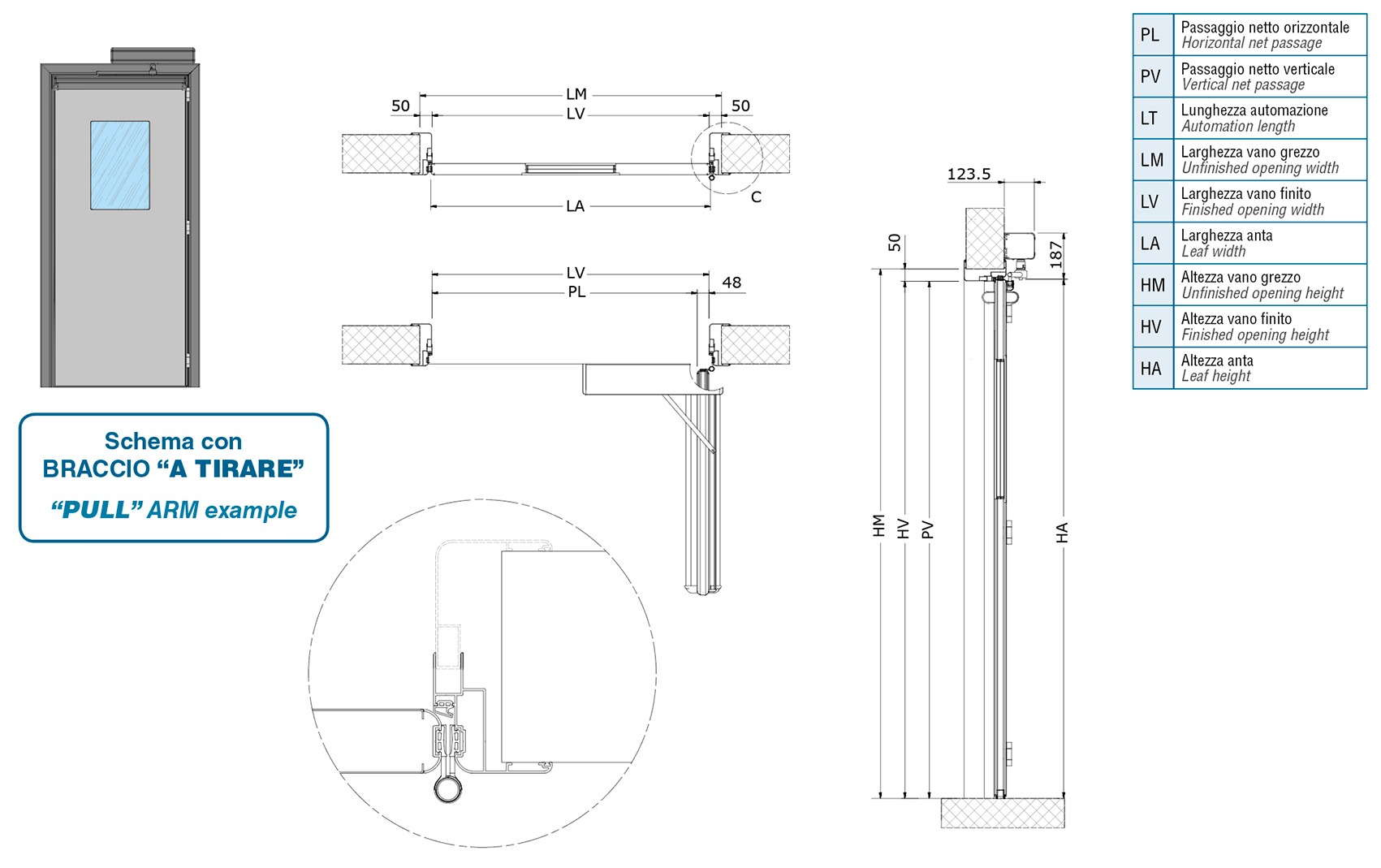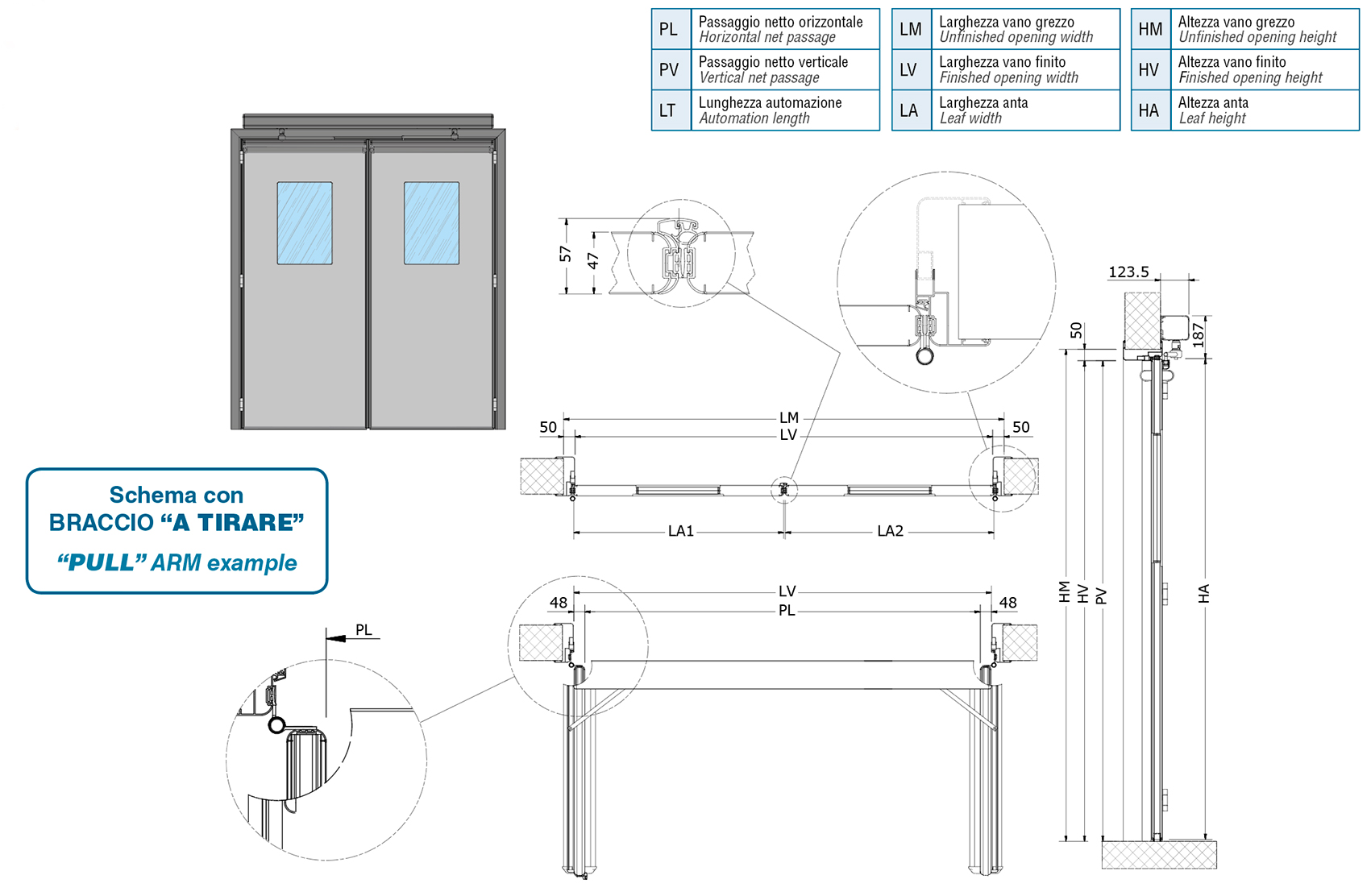 Usage
Operating rooms, surgeries, laboratories, emergency rooms, X-ray rooms, intensive care units, aseptic environments (with high bacteriological-virological protection).
Dimensions and Components
Installations
Download