H-SMLTS
Simple sealing manual sliding door with HPL panel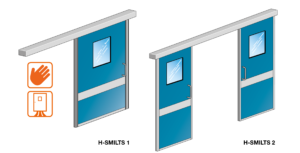 The manual sliding door for hospitals H-SMLTS features a HPL panel, available in 125 colours to suit your design and style needs.
The wide range of options ensures that the specifications can be met.
The manual, simple sealing sliding doors H-SMLTS with stainless steel panel by Label can be sanitized quickly, thanks to their design and quality of materials, and are available in the following versions:
H-SMITS1 – Single-leaf door for openings up to 2,000 mm
H-SMITS2 – Double-leaf door for openings up to 2,500 mm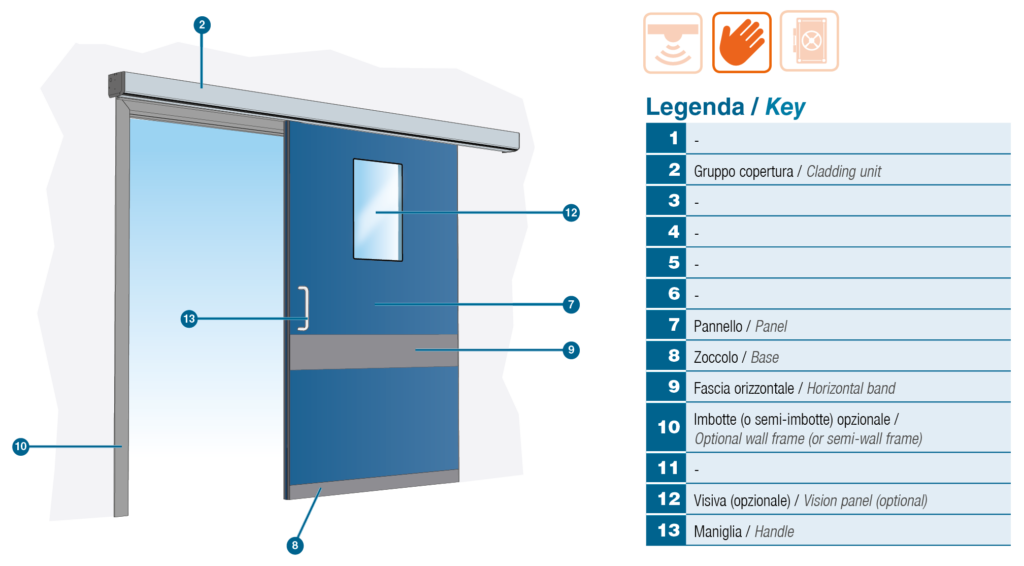 The door moves horizontally and, when it is nearly closed, comes to rest against the jambs and the transom of the frame, which extends out from the wall, guaranteeing an airtight seal through the compression of special rubber sealing strips on the two vertical sides and the top horizontal side of the door.
The support trolleys can bear and move a maximum load of 300 kg for a single-leaf door.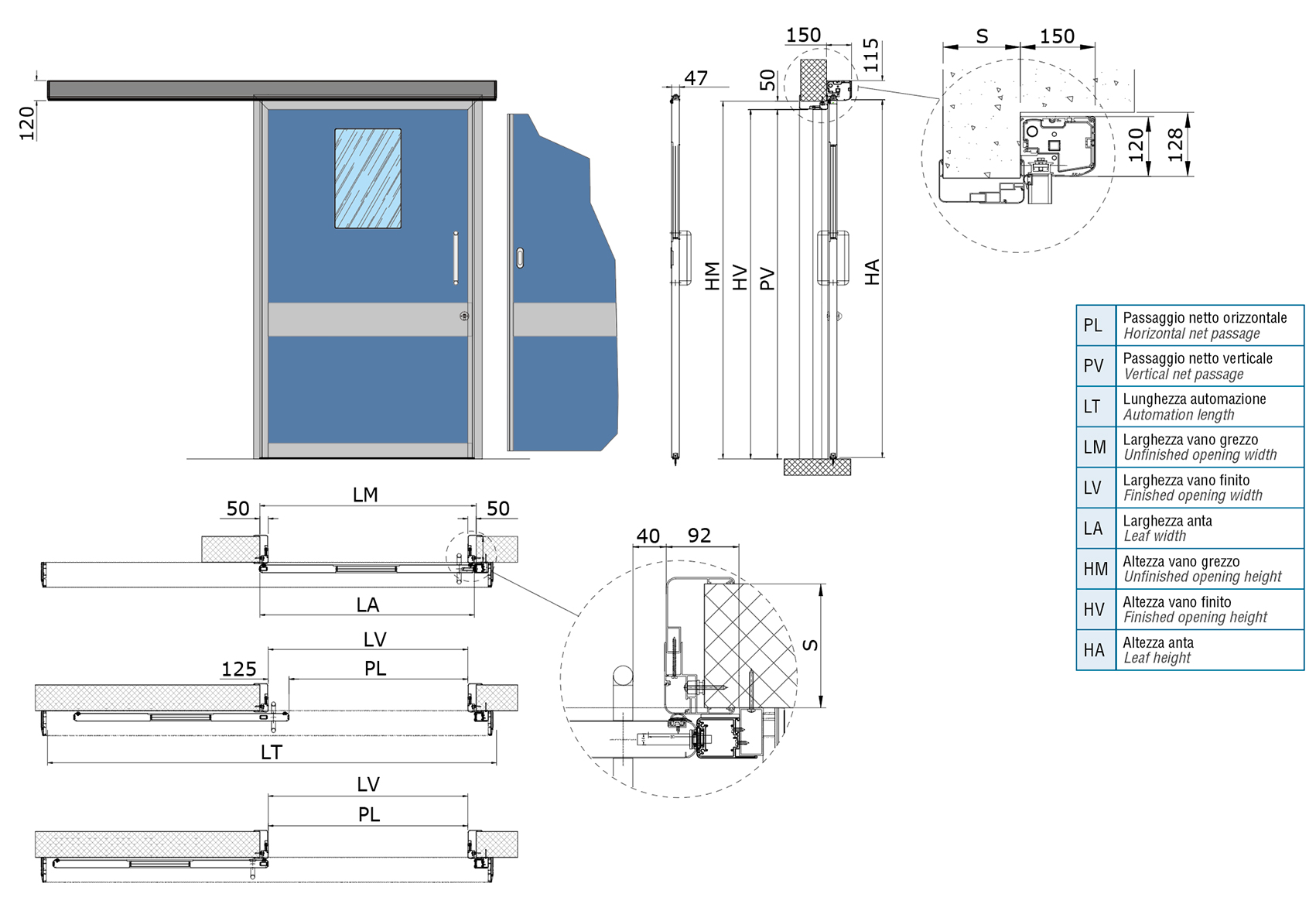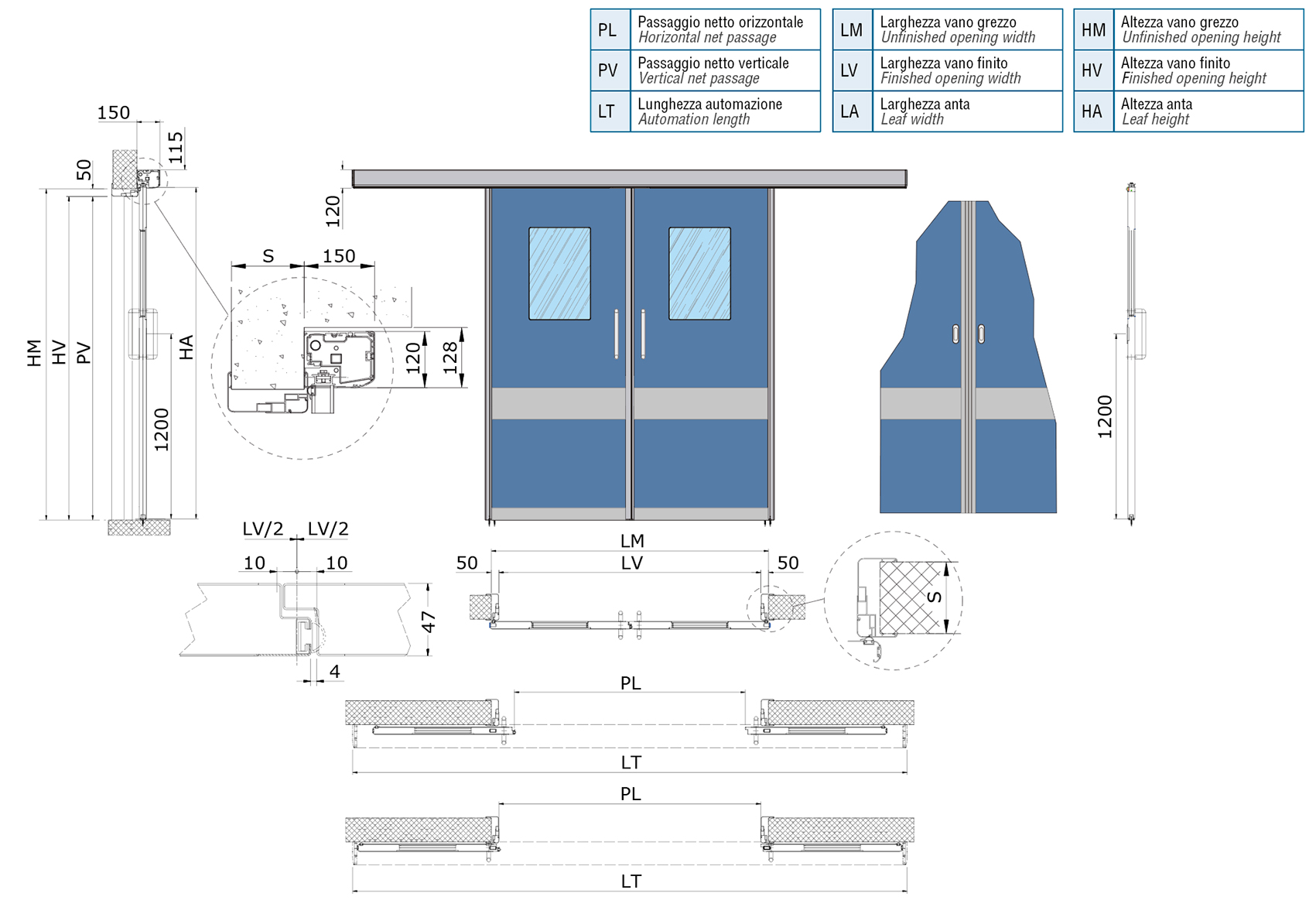 Radiology doors
The door can also be supplied with 1, 2, 3 or 4mm thick lead plate for protection from X-rays. The realization of some models is essentially constrained by the weight that the door can reach when the lead plate is inserted into it.

Slideway transom
78-mm TRANSOM, aluminium cover accessible for inspection and ABS side panels
Maximum load capacity of 400 kg for a double-leaf door or 300 kg for a single-leaf door
Maximum transom length: 6500 mm.
Aluminium alloy covering unit, 150x120H mm, with release and support articulation
Aluminium alloy slideway rail mounted on a sound-dampening polyzene guide
The movement is driven by an antistatic rubber timing belt with Kevlar sides.
Double-wheel trolleys with anti-derailment device
The standard supply includes:
Leaf panel complete with dedicated frames and gaskets
Upper rail in raw aluminium
Aluminium covering unit in HPL version
Options
Dimensions and Components
Installations
Download