HB-SAVTE1
Automatic hermetically sealing glazed sliding door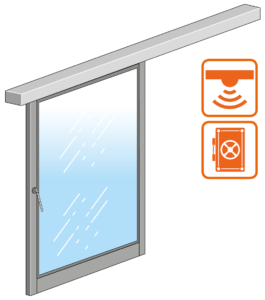 HB-SAVTE1 is the automatic glazed door by Label which, in the closing movement, lowers and translates the leaf so that the door approaches the wall and the floor, thus ensuring the hermetic seal by the compression of special rubber gaskets on the four sides of the door. The opening and closing movement is managed by a specific software that performs power and speed control.
An automation featuring a brushless motor ensures high reliability over time and significantly reduced consumptions.
Air permeability test no. 278814.
Various options are available to customize the product to fully meet specifications and customer requirements.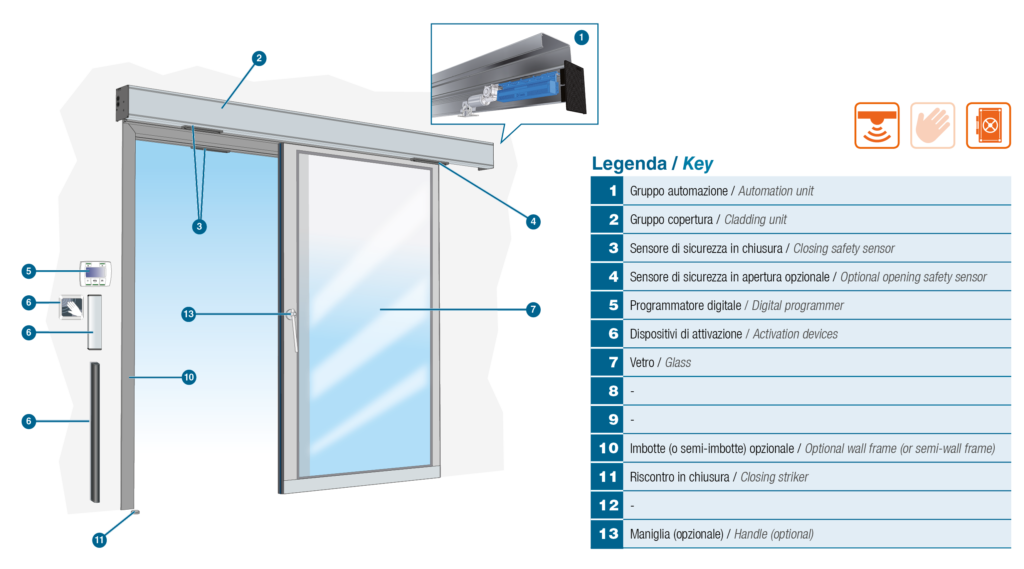 App
Door control parameters can be quickly entered and updated using the LabelTools app.
Automation
Automation on 125 mm transom, aluminium cover accessible for inspection, ABS side caps.
Aluminium alloy covering unit, 135x180H mm, with no screws visible on the front view
Fastened on a load-bearing structure with an aluminium alloy slideway rail mounted on a sound-dampening polyzene guide
BRUSHLESS motor, reversible gearbox
The movement is driven by an antistatic rubber timing belt with Kevlar sides.
Trolleys with anti-derailment device.
Control unit with self-learning microprocessor and automatic management of safety procedures (anti-crushing, direction reversal, low-speed safety movement)
The standard supply includes:
ETH/E automation
Leaf complete with dedicated profiles, glazing, and gaskets
Aluminium covering unit, raw-aluminium version
Digital selector
Safety sensors (Qty. 2)

Options
Handles (standard and lifting)
Blinds
Bump bands
Pulse devices
Opening safety sensors
Different types of glass
Opaque/transparent LCD glass
Usage
Operating rooms, laboratories, observation rooms, intensive care, aseptic environments (with high bacteriological-virological protection).
Dimensions and Components
Installations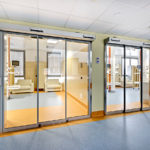 Download