Privacy Kit Eterna
Automation for sliding doors
Automatic doors guarantee hygiene, therefore it is important to automate access to the restrooms and all those rooms where a lock is normally used for privacy reasons.
The Label Privacy Kit combines all the convenience of automatic doors with the privacy guaranteed by the doors with lock; it can be used with existing doors or new installations and is also available in the version for swing doors.
Door handles are an unavoidable carrier of viruses and bacteria, because they come into contact with the hands of many users and are a problem for businesses, public offices, and healthcare facilities.
The touchless opening of the Privacy Kit avoids that several persons touch the same surfaces.
How the Privacy Kit door automation works
Automatic door opening is controlled by a contactless button
Door closure and lock are operated from inside by approaching the contactless button
The signalling light signals the presence of a person inside the room
In case of emergency, the safety systems are enabled, allowing door opening

Privacy kit for automatic sliding doors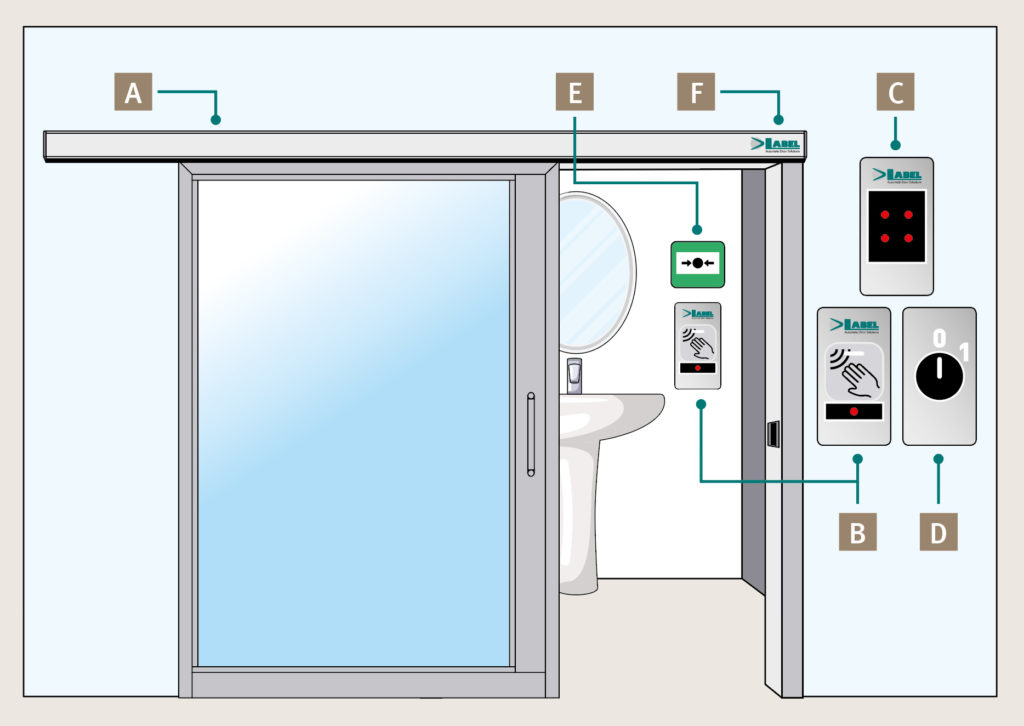 A. Sliding automation ETERNA with module UR24
B. T-LESS Touchless opening button
C. T-LED "free/busy" signaling light (free/locked door)
D.V00148 ON/OFF key selector for opening from outside, in case of emergency
E. V00269 N.C. emergency button for opening from inside
F. ET-FSA (ETERNA 90) – ET-EBSFSA (ETERNA 150-200) FAIL SAFE electric lock for door lock
Use
Restrooms of restaurants, offices, clinics, shops, etc.
Restrooms for disabled people
Changing rooms
Hotel rooms
Meeting rooms
Support for professionals
Label experts are available to help you in defining specifications and configuring the door corresponding to your needs. Contact us for more information.
See also the Privacy Kit for swing doors.
Download