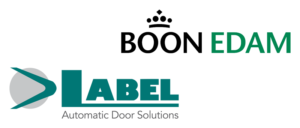 Label is the exclusive distributor of Boon Edam products in Italy and the Republic of San Marino
Label has been chosen as an exclusive distributor by Boon Edam, one of the world's leading manufacturers of revolving doors, access control systems and security gates. This, for us, is public recognition of the quality of Label systems and our before and after sales service.
This synergy will make it possible for Label, and our customers, to offer a wide selection of access control systems, ranging from automatic sliding, swing and revolving doors to complete control systems for security doors and portals.